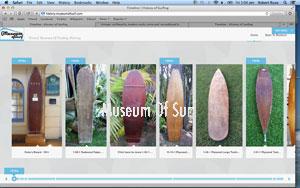 The timeline is a pictorial history of surfboards, from Duke Kahanamoku's board he made for the surfing display at Freshwater beach on Sydney's Northern Beaches in 1914, right through to the latest in equipment.
This site was created to save the history of surfing for prosperity, so that we can reflect and bring back memories of our own travels, but also to enlighten todays generation of our rather basic begginings, to the equipment they ride today.
When you select the image , it will display in a lightbox with the ability to arrow across and show all images of this particular board. Some will display as very small images as these were contributed from old photos that are in a very low resolution. Others will display as large images, and will give you a better view of that particular board. We spend many hours, taking images, sorting and then resizing to show on this timeline. We do however apologise for any that do not display very well. We are human!!
If you select the text at the bottom of each board displayed on the timeline, it will bring up a description of the board, and then if you select read more it will display an entire page dedicated ti this board. This is an ongoing project and we apologise for missing content. It is far better for us to give as accurate a description as possible. So be patient as experts are working to bring all of this up to date.
I hope you enjoy the journey through the history of the surfboard as much as we do in showcaseing it to the world.