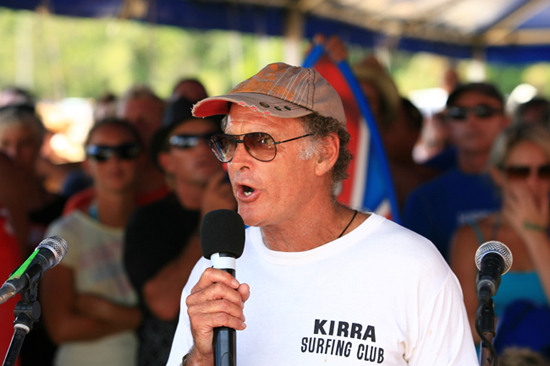 On Saturday 11th Nov 2017 surfing lost one of its founding members John Standing (Kipper as he was known to all) who sadly passed away on Rainbow Bay beach after an early morning surf. John was a valued member of many committees and served as vice chairman for a number of years. He regularly assisted in our offsite displays and inhouse events and as an engineering draftsman was responsible for the design of the stand that supports our Big Board sign.
John was a quiet (sometimes reclusive) person who contributed much to surfing for which he will probably not receive the recognition he deserved. His history in surfing is long and varied and he could be classed as a true waterman. Having joined Kirra SLSC in the early 1960s he quickly became involved in the early surfing scene. His interest revolved mainly around the ocean and he became involved in all ocean sports and surfed on all kinds of equipment. John joined Kirra Surfriders Club when it was formed and served for a number of years on the committee, he was also an active member of the Kirra Catamaran Club and sailed his catamaran in many regattas. Later he became a member of Rainbow Bay SLSC where he was a regular in the Snapper line up when he wasn't body surfing Frogies.
He will be sadly missed by all who knew him.
If You Like Us. Like Us !