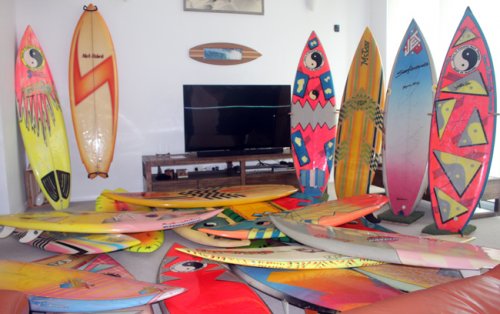 The collections listed below are the reason this site was built.These guys are extremley passionate about their collections and have permitted us to display the images of their labours. In the early days of collecting the old boards, it was a pretty simple endevour. Just go to the odd garage sale or wait for the council clean up week. Those days are gone now as the values increased what was once a happy hobby, is now a race to find the equivalent of the 1930 penny. Some of these collections are valued in the hundreds of thousands today. What we do achieve for these collectors, is a digital inventory of their collections and also they don't have to drag them all out from under the house etc. We give them a photgraphic list of each board to view on any type of digital device.This is our contribution to those that allow us to take all the images displayed throughout the site, . A huge thank you, not only for allowing us in, but also for your perserverance in saving our surfing history.
There are hundreds, if not thousands of vintage surfboards all throughout Australia. They paint a picture or timeline of our rich surfing history. The collections are named by the collector and the location of each collection may not be reflected in the name.
This is for security purposes. Some of the images displayed are no longer in the possesion of the collector, however the images are the property of each individual. Any conflicts  or right of ownership is not the responsibilty of this site, but every image displayed has the express permission of the individual.