Dukes Day.
A celebration of 100 years of surfing in Australia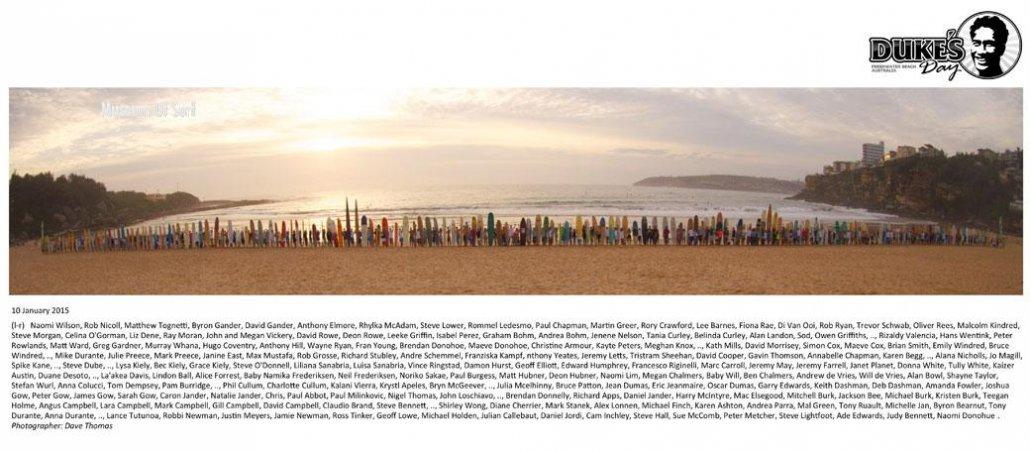 Aloha
The celebration of 100 years of surfing in Australia, was held at Freshwater Beach 8th & 9th of January.
I had the privilage of attending the ceremonies and I have to say this weekend  will be remembered for many years, by all that attended.
All of the activities were not only well attended, but it was such a happy and inclusive event, with everybody from Surf Lifesaving, Surfing legends to Mum & Dads, enjoying each others company and spreading so much of the Haiwain Aloha.
Our surfing roots came from the Haiwaian legend Duke Kahanamoku's display of surfing at Freshwater Beach 100 years ago, so it was only fitting to invite some of Hawai's legends. Joey Cabel, Fred Hemmings and Paul Strauch are the only three surviving members of the Duke's Surf Team, after the sad passing of Butch Van Artsdalen. I will undoubtedly miss some of the attendees and my apologies to them, but a huge thank you to all that made this weekend so enjoyable.
Amongst the activities was a re enactment of the Duke's display. Duane Desoto was chosen to represent the Duke, and a couple of Freshwater locals, Tom Myers as Claude West and Lilly McDonald as Isabell Laytham. As far as I and the crowd around me were concerned this went off spectacularly well. Duane did a great job. Both Tom and Lilly excelled especially Lilly who jumped up and looked like a surfer from the first. Well done to all.
The following images are unedited and are free to use, if you are in the photo. Please do not use any other images. Great night and I hope you enjoy your memories.
The following video is the building of the replica of the board, built by the Duke.